I've just finished a project that has taken me almost 3 months... I have worked every day, neglected my family and friends (apart from the occasional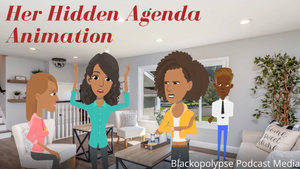 @blackopolypse podcast) the washing hasn't been done for months, put on weight due to lack of sports activities due to me sacrificing every spare waking minute to this project.  
Apart from the audio vocals, I have practically done everything as a one-man army. Everything included placing, mixing and editing vocals. Rendering them. Then searching for sounds and fx thought out the whole wide internet. And that 8 times over. Searching for fitting music which led me to have to remaster them all.  
Then I decided to animate the series... That took so long and although I would love someone else to redo the Animation at some point. I'm proud of myself for learning something new. During this new animation adventure, I had to go back into the WWW and search for pictures for every scene and program each character and their basic actions. After that, I bless the Series with subtitles... And here we are, finished at the top of the mountain. Happy and sad to be finally finishing it. 
The Project is called 'Her Hidden Agenda' and I loved working on all 8 episodes.  
I HEARD THAT IF YOU BUST YOUR ASS YOU WILL BE REWARDED ADEQUATELY FROM THE UNIVERSE SO I EXPECT TO BE GIVEN MY DUES OVER THE NEXT COMING MONTHS...😁👍🏿 CONGRATULATIONS ME.